Senior Pastor Joel & Barb Everhart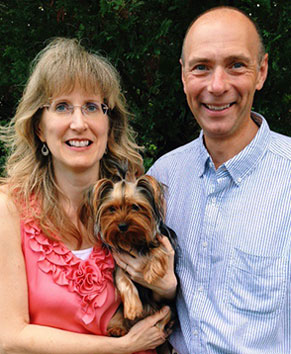 Joel & Barb have served as Pastors in the Assemblies of God ministry for 38 years & have been leading the congregation at New Life Assembly since 1986 (31 years). Joel graduated from Central Bible College & currently serves New Life as the Senior Pastor. Joel & Barb have been married 37 years, have a son & daughter, & four grandsons & one granddaughter. Their son Josh resides in Pennsylvania & attends New Life Assembly with his wife Andrea, son Parker, & daughter Hannah. Their daughter Kayla resides in New York with her husband Chris & three sons Colten, Hudson, & Cooper.
Joel enjoys the outdoors, cooking, woodworking, rooting for his hometown Pittsburgh sports teams, & writing — he blogs weekly & he penned the book Developing A Forgiving Spirit. Barb enjoys spending time with family, Skyping with her grandkids & preparing for their visits, crafting, sewing, puzzling, & visiting personal care homes with her Yorkshire pup to cheer up residents.
One of their favorite aspects of the ministry is dedicating babies to the Lord & watching them grow up in the church to become faithful servants of the Lord.
---
New Life Board Members
Alina Dusharm (Secretary)
Jim Border, Jr
Larry Bray
Steve Gebhart (Grounds Maintenance)
Dave Mickley
Andy Storm (Security & Indoor Maintenance)